PPC, or pay-per-click advertising, is an invaluable marketing tool for businesses - especially those looking for quick traffic increases and lead generation. The trick is choosing the right avenue for your budget.
So, what types of PPC are there?
Search advertising
Display advertising
Social media advertising
Remarketing
Sequential remarketing
Google Shopping
We'll go into a bit more detail about each one, below.
Unlike more traditional forms of advertising, PPC allows you to directly assess your return on investment, helping you to understand your profitability from any money you decide to invest - choosing the right type of advertising is key to making sure you get that ROAS (return on ad spend).
If you're also interested in SEO - take a look at "SEO versus PPC" and see which is the best bet for you.
Search advertising – Google Ads and Bing Ads
We've all seen PPC search adverts, although you may not know that's what they were. The most common type of search ad can be spotted on Google, although Bing has their own too. If you search for something, you'll notice them at the top and bottom of the organic results - they're identifiable by their small 'Ad' logo (Google changes the styling of this frequently, but the tag is always there if you look for it).
Here's an example of a Google search ad:

By entering the auction to have your business's ad show here, you can advertise right when people are searching for your products or services. Google ads are curated and organised through the AdWords interface, where you conduct keyword research and create targeted campaigns to capture all the possible search traffic for your business. This form of PPC advertising is a proven method of returning results, and it bypasses organic rankings that can take a considerable amount of time to earn.
Display advertising
Display advertising shows your adverts across all Google partner websites, all over the internet. Targeting for display advertising differs slightly from search advertising, in that you can target specific types of people to see your adverts.
You can select your exact target market, or choose people that have visited similar websites before, or hand-pick relevant industry websites to show your adverts. This enables you to fine-tune who sees your adverts and where they are displayed, to get the most out of your investment. By using both image and text ads, you can increase brand awareness for your company all across the web in a visual and engaging format.
Social advertising – Facebook and LinkedIn
If connecting with customers socially is your preferred way of marketing your goods, social media advertising might be for you. You can place your ad in your target demographics' newsfeed, or in their social hangouts. You don't even need a large social media presence to have ads running, you simply need an account. You can create ads on most social platforms but the main ones are Facebook (Which also owns Instagram) , Twitter and LinkedIn. With a successful social advertising strategy, you can increase your brand awareness in a super shareable environment.
With social media advertising, you can be selective in what you share, or you can choose to promote pretty much anything. You can send people to landing pages, lead generation forms, or simply highlight a piece of content you want to be seen by more people.
Getting the right imagery and targeting is the crucial part - you want the right people to see your ad, and you want them to be interested enough to click on it.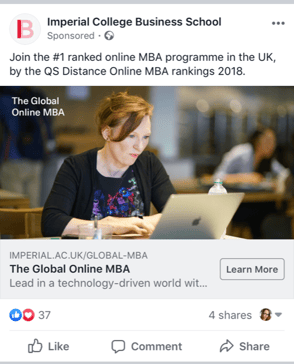 Remarketing
Ever been on a website and then an advert for that exact site (or even the specific product you were looking at) pop up somewhere else? You've been remarketed to. This is a really effective method of PPC and targets people that have already shown a genuine interest in your company - they've already made the effort to find you and browse your website.
Seeing your advert again may just be enough to entice them back to your website and convince them to convert or make a purchase. Dynamic remarketing is especially nifty, as that's the one that shows the exact product that a visitor on your website has been looking at. This keeps visitors engaged with your brand and keeps them reminded of the product they didn't end up purchasing.
Sequential Remarketing
This isn't technically a separate category to remarketing in general, but it's often forgotten so we wanted to give it some prominence.
In this version of targeting people who've already been on your site, you don't just retarget them, you create a longer-term campaign that shows different content as time passes. You can tell a story, test different messaging, target different sequences depending on how long it has been since that person visited your site.
Ever seen a 'we miss you' type message after being away from a site for a long time and not having clicked on any of the previous ads you saw? Or have you watched the same company come up on your screen with new offers that get increasingly generous the longer you ignore them? That's sequential remarketing at work.
Google Shopping
If you have an eCommerce website, a Google Shopping campaign might be a more effective PPC campaign than any of the other options. These results often show in a carousel above the main Google search results, allowing potential customers to see products and prices before they've even clicked onto anyone's website.
Effectively a shop window online, Google Shopping adverts provide your audience with a sneak peek at the style and price of your products, before you've paid for the click. This means that every click you are paying for has a higher chance of converting, as the visitor has already seen what you have to offer and how much it'll cost.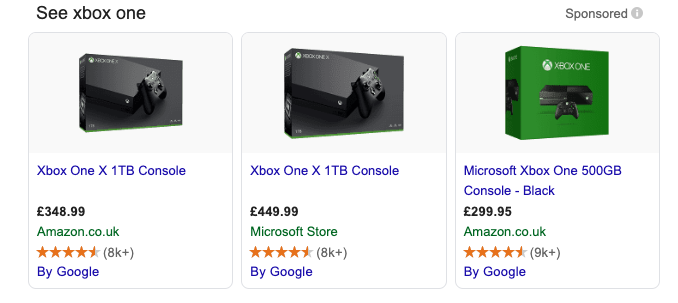 Whatever PPC campaign may be best for your business, they can all be heavily customised and tailored to meet your business objectives and to target your ideal market. If you'd like some help with getting PPC set up or PPC management, get in touch! You can call us on 0117 933 0570 or contact us online.
Article updated 6th July 2021