[updated 30th June 2021]
Since we became a Platinum HubSpot Partner Agency, we've fielded plenty of questions from people who've heard of HubSpot but don't know what it is, whether it's worth using, how it works, or why they should care. So, we've put together a few of those questions (and answers, of course) to help out.
Is HubSpot free?
This is the biggest question, because there are also rumours that HubSpot is expensive. So, which is right?
HubSpot CRM is free - really. The CRM is a powerful tool that allows you to organise, track, and nurture your leads and customers. Any business should have a CRM to keep records of customer data, but most of them are either pretty expensive or vastly underpowered. HubSpot CRM contains everything you need, without resorting to spreadsheets. Plus, it's super customisable.
It also includes live chat, deal tracking, and automatic logging of customer interactions - pretty impressive stuff.
Recently, HubSpot also added a bunch more tools to its free offering - Ads, Forms, and Email Marketing.
Ads in HubSpot let you compare performance across networks, and see exactly which contacts interacted with your ads, giving you deeper insight into your paid-advertising strategy.
The email marketing tools include an intuitive drag and drop editor, excellent deliverability, and analytics to help you optimise your lead nurturing. And a full suite of conversion tools, including forms and pop-ups, make it easy to convert visitors to your site into leads.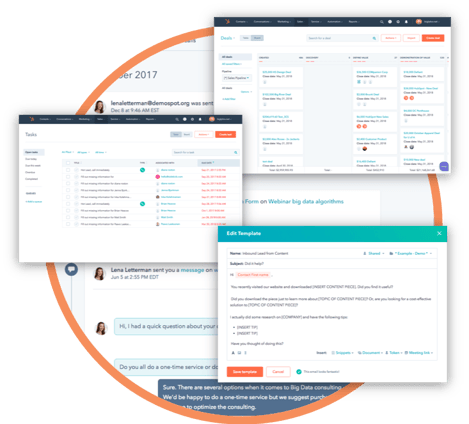 So yes, HubSpot is really free - and the free version contains an impressive array of features. Obviously, when you start paying for the higher tiers, you get even more functionality, but for to start out, the free CRM is an amazing platform.
Why & How is HubSpot free?
There's no such thing as a free lunch, right? So, what's the catch?
There actually isn't one, strange as that may sound. The CRM and associated tools really are free of charge, and you don't have to do anything special to get or keep them. Of course, this leads to the question of how HubSpot can make money if they're giving such great tools away for nothing...
Well, that turns out to be fairly simple, too. The idea is that once you see how great the free tools are, you'll want to upgrade to the paid tools. It's not sneaky or underhanded - you get something useful for nothing, which gives you a taste of how much your business benefits. And when you see those benefits, investing in other tools comes naturally.
If you never decide to purchase a license for the other tools, that's perfectly ok. You don't get penalised. But HubSpot know that what they offer is worth it, so they're not afraid to give something away for nothing to demonstrate that.
Is HubSpot right for every business?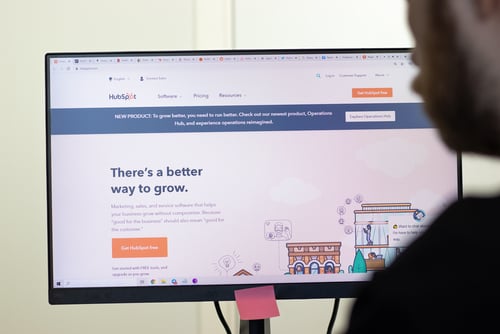 In a word, no. We may be HubSpot partners, but we're not going to try and convince everyone to sign up. In fact, we're very selective about the clients we'll work with on this, because we're only willing to work with businesses that we truly believe we can help grow.
HubSpot is an incredible tool for many businesses, but no tool is perfect for everyone, and there are some reasons that a business might not be the right fit for HubSpot.
Where the system comes into its own is with considered purchases - sales that include a level of research and consideration by customers. The inbound method is ideal for these types of purchase because it gets content out there in front of the people looking for it.
If your business is more about impulse buys, inbound might not be the right approach. If your margins are low and you're more focused on speed and volume, again, it might not be right. That's not to say it's a definite no, it just isn't necessarily a resounding yes. The best approach would be to speak to a HubSpot Partner to get their advice (like us, for example).
Is HubSpot suitable for small business?
HubSpot is suitable for most businesses (see above for exceptions), so it is absolutely suitable for smaller businesses.
The level of investment required is sometimes cited as a concern for small businesses with limited budgets. In which case, the free tools offer a great starting point - they're not cut-down versions (though there are some limits), they offer the full experience, so you can get started while you build your business. And the email marketing being included saves you money on other platforms.
The Starter package offers a very reasonable step-up without breaking the bank, and once your business is thriving, you'll have plenty to invest in the Professional package.
But even if you never get to that point, the free tools are not only suitable for small businesses, they're better than the majority of free and even paid tools out there right now, so you've got nothing to lose.
Is HubSpot GDPR compliant?
GDPR is a serious deal for businesses dealing with customers, leads, or contacts in the EU, so having compliant software is a must.
HubSpot enhanced their software with extra tools and features to make it easier for businesses to comply with the regulations, including:
Cookie consent - display automated cookie banners and capture visitor consent
Lawful basis - new default property added to contacts to store information about the lawful basis to store and use their data
Subscriptions - track opt-ins as well as opt-outs
Deletion - GDPR delete function added to permanently delete a contact's data
Re-add - warnings show when you try to add a contact that previously was deleted under GDPR
All you have to do is toggle on the GDPR function in settings and you're good to go.
Is HubSpot a cult?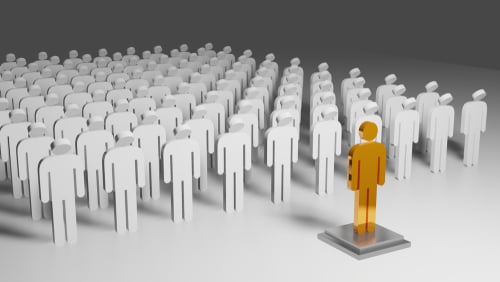 Haha, no, it's not. Honestly.
Sure, we've bought into the methodology and the software, but we're not mindless acolytes now.
This question seems to arise from the fact that the people who use HubSpot tend to be pretty into it. There's a reason for that - we love using it (not only as marketers, but also as a sales team, and as business owners/leaders) so we're always happy to tell others how great it is.
So, it's not a cult, just a lot of people benefiting from something and being happy to share.
Is HubSpot any good?
Well, it's probably not surprising that we're going to say yes to this. There's always a caveat, though.
Yes, it's good if you actively use it and if it's the right fit for your business. But, if you're not following the methodology and using the available tools, or if it's simply not the right fit, then it won't seem quite so great to you.
From another perspective, it's simple to use, the interface is clean and pleasant, and there are tonnes of integrations available so you can link it to the systems you use every day.
There's also a learning centre that helps you get the most out of HubSpot, with videos and certifications to guide you through using the software to its fullest extent.
When was HubSpot founded?
2005.
Where is HubSpot located?
HQ is in Massachusetts, while the European HQ is in Dublin.
There are also offices located in Singapore, Sydney, Tokyo, Bogota, and Berlin.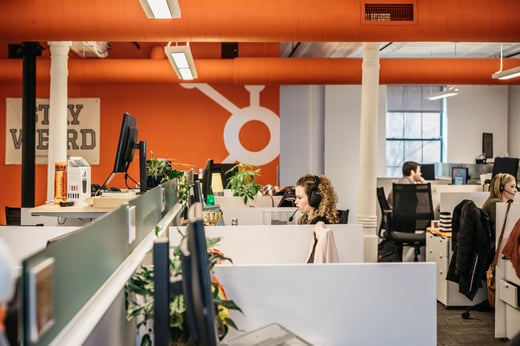 Who uses HubSpot?
Lots of people! But if you're looking for some specific examples, you can find a fair few on HubSpot's case studies page, including:
Casio
Suzuki South Africa
The Rock and Roll Hall of Fame
National College of Ireland
TUI Travel (North America)
Randstad
Airstream
Trello
The majority of companies using HubSpot are based in the US, followed by the UK. 65% of the companies using HubSpot have 1-50 members of staff.
Is HubSpot safe?
HubSpot take a lot of steps to secure their (and your) data. Just a few of these include:
In-transit encryption
TLS as default on HubSpot-hosted sites
Web application and network firewalls
Hosted with cloud infrastructure providers with SOC 2 Type II and ISO 27001 certifications
Buy bounty programme
3rd party penetration testing several times a year
External audits and SOC 2 Type I report
We recommend checking out HubSpot's Security Page for more information on these (otherwise this blog post will get far too long!).
So, there you go - quick answers to the most common questions we get asked about HubSpot. Do you have other questions we haven't answered? Get in touch and we'd be more than happy to talk it through.
Oh, and if you have a question about HubSpot training - we've also got a HubSpot Academy Guide you might be interested in.