We posted recently about whether or not HubSpot is suitable for B2C companies, but what if your question is on the other side of the coin? Is HubSpot a good choice for B2B companies?
HubSpot is a fantastic tool - a CRM, fully integrated marketing suite, sales tools, and customer service tools, all in one package (depending on the hubs you choose, that is).
HubSpot for B2B - does it work?
The answer to this question is actually pretty similar to our B2C answer - it depends on a couple of things:
The value and volume of your sales
Whether or not what you offer is a considered purchase
These elements identify whether or not inbound marketing is a good strategy for your business, and therefore whether HubSpot will be the right fit. The CRM alone is a fantastic tool, so even if inbound isn't suitable, we'd still recommend getting the free CRM to keep your client data straight.
Value and volume of sales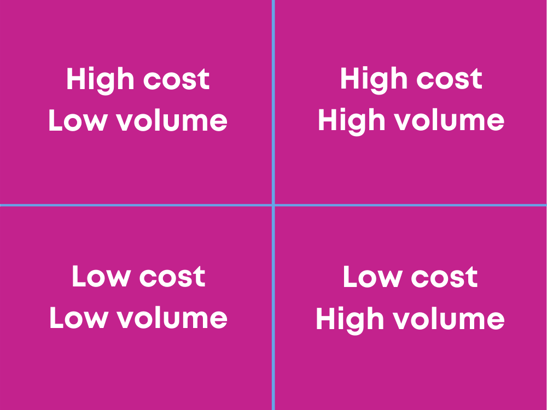 B2B businesses can fit into the above grid, just as B2Cs can, and the same categorisations apply:
High cost, high volume - HubSpot is a great fit
High cost, low volume - HubSpot's Account Based Marketing tools are a good choice
Low cost, high volume - it depends on your margin as to whether HubSpot will deliver ROI
Low cost, low volume - HubSpot may not be a good fit
The key is being able to generate enough leads and sales that your investment in HubSpot, and any retainer you might have with an agency to help you implement and manage it, will deliver a return.
You should look at the size of your addressable market, your conversion rates, and your margins. If all of that lines up, then HubSpot offers a huge advantage - its integrated systems are powerful and give you a lot of data and insight into both your marketing and your sales activities. Also look at your lifetime value of a customer - if your service comes with a long-term contract, each customer is a higher value than for a one-time purchase.
B2B businesses are more likely to use the full scope of the sales tools within HubSpot, so this is definitely a hub worth pursuing.
Considered purchases
A considered purchase is one where people spend time considering before purchasing. For example, pens and stationery items are rarely a considered purchase - they're quick and simple to buy and don't generally have any procurement requirements. On the other hand, new software might take plenty of research and demos before a finalist is chosen.
The reason this affects whether or not HubSpot is the best approach for you is inbound strategies fit best with considered purchases, where people:
Research their challenge
Research different products or solutions
Read reviews
Ask for demos
Read about specifications
Research pricing
All of this is predicated around finding content online, whether produced by your company or not. The more of this type of content you create as part of an inbound strategy, the more opportunities you have to connect with and engage your prospects.
Types of B2B considered purchase include:
Office space
Expensive hardware
Software and SaaS solutions
What features are good for B2B
When you've identified that HubSpot is good for your specific business, it's worth taking time to look at the specific tools and hubs that will provide value.
CRM
Every business should have a CRM (a Customer Relationship Management system). The CRM contains all of the data about your contacts and the companies they're associated with. It includes emails from your sales teams, website engagements, deals, calls, meetings, and so on.
If you have multiple stakeholders involved in a deal, you can track all activity across each of them from the Company record, making it easier to keep your sales teams up to date on what's happening with everything.
Deal Pipelines and Reports
The Deals board shows you all of your potential sales, along with the information you need about them - including who owns the deal, what it's worth, and when you expect it to close. You can filter deals, report on them, and even set up automated actions based on deal stage.
You can get one pipeline in the free HubSpot, but if you have more complexity and multiple pipelines, you'll need one of the paid Sales Hub tiers.
Sequences
Sequences are one of the fantastic lead nurturing tools that B2B businesses love. Essentially, you create a sequence of emails and tasks and add contacts to that sequence. The emails will be delivered automatically, and tasks will be sent direct to the appropriate people, so your team don't have to remember to follow up and nurture leads.
If a contact replies to an email from a sequence, the sequence will end - so you don't have to worry about unnecessary or irrelevant emails being sent out.
Lead Scoring
You can set up your portal to automatically score your leads based on the criteria you define. That might include size of business, number of stakeholders, engagement with sales or marketing emails, or other activities. You can allocate positive or negative scores to any properties you have in your CRM and activities tracked automatically.
This helps your teams prioritise high scoring prospects so you can aim your resources at the most likely to close.
Tasks
Tasks is another great tool within HubSpot. You can assign "to do," "call," and "email" tasks to remind yourself or your teams to take actions. These tasks can be added manually or generated based on different triggers. For example, you might set up a call task when a sequence reaches its end, or set up a variety of reminders when a deal hits a certain stage.
B2B HubSpot Integrations
We've posted before about all the things HubSpot integrates with, but let's take a look at some integrations that are popular with B2B.
There are so many integrations that we can't go through even a small fraction of them here, so this is just a taste.
Outlook
If you're an Outlook user, this integration lets you track emails sent from your inbox into your HubSpot contact records.
Log emails sent from Outlook in HubSpot CRM with one click.
Track email opens and clicks in real time.
Get access to the tools you need to work more efficiently -- like templates, sequences, meetings, and more -- right in your inbox.
Zoom
Now that Zoom has become pretty ubiquitous when it comes to business communication, this integration is definitely on the popular list.
Integrate with HubSpot meetings
Track Zoom webinar attendance
Slack
As a popular comms channel for many businesses, Slack is something you can use to link with your HubSpot account to get notifications and updates.
Get

notifications for reminders, mentions, form submissions, and more within Slack

Create tasks and tickets within Slack

Answer live chats from within Slack
Freshdesk
If you use Freshdesk within your business, you'll want to integrate it with your HubSpot portal so that all of your data is up to date in both systems.
Access HubSpot CRM contacts, companies and deals
Create new contact from a ticket, if they're not in HubSpot
Create a new deal from a ticket
View deals associated with a contact
View contact lists associated with a contact