HubSpot Training Bootcamp
This FREE 4-week bootcamp gets you started with the basics of HubSpot, so that you can learn what you need to start using the platform effectively.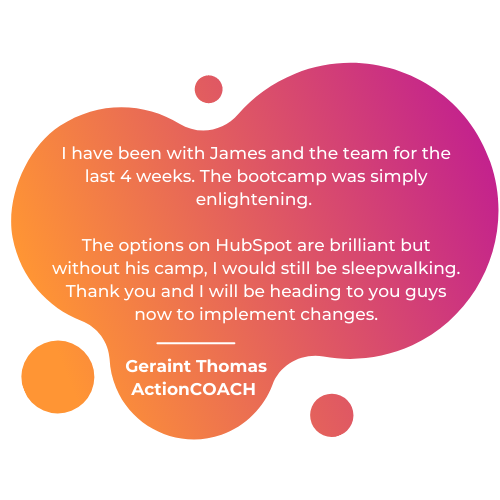 What to expect



Each cohort runs for 4 weeks, across the following dates:

February: 2nd, 9th, 16th, and 23rd

May: 4th, 11th, 18th, and 25th

September: 7th, 14th, 21st, and 28th

November: 9th, 16th, 23rd, and 30th

Each cohort is restricted in number, to make sure you get the most out of it, with content that's specific to you.

The key outcome will be that you're able to use the HubSpot tools you have, to get the best out of them.

We'll cover some of the more technical aspects - like setting up your domain and tracking tokens - as well as how to use the free tools, and plenty of hints and tips along the way.
HubSpot Bootcamp is a great opportunity if
You're HubSpot users but want to improve your usage
You don't feel you're getting as much value as you could be from HubSpot
You need someone to show you what you aren't using that you could be in HubSpot
You'd like to explore what else HubSpot could achieve for your business
You haven't got a CRM yet or just signed up for the free version of HubSpot

Really, it's for anyone involved in a business who fancies coming along! If you have HubSpot already or are willing to download the free version for the course, we'd love to see you.
Meet with your trainer...
James started SpiderGroup over 18 years ago. He is our CEO as well as a certified HubSpot guru and has been helping businesses grow and improve their use of HubSpot to manage marketing, sales, customer service, and CRM ever since.
Geraint Thomas
ActionCOACH - Bristol
"It was great working with James and Becky on the 4 week bootcamp that took us through different elements of HubSpot - the training was fun and engaging and has been extremely helpful. I know I will be able to use the knowledge that has been given to me over the four weeks in my day to day running of our CRM. I would definitely recommend their services!"
Rupert Marlow
Rupert Marlow Photography
"SpiderGroup is a great bunch of helpful and knowledgable people. Their training is well-planned, well delivered and while it does cover a lot, there is plenty of time for questions and some tailored tips for anyone struggling. They truly understand HubSpot and can translate it into simply processes and as a result, convey it simply and straightforwardly."
Beth Brown
HLK
"My company are moving to HubSpot soon and the marketing team will be expected to run it. We had no experience of HubSpot until the 4 week training course with SpiderGroup. The training was excellent and I now feel confident to lead my company in the use of HubSpot in the near future."
What our previous cohorts thought
Frequently Asked Questions
Do I have to commit to every session?
Not at all – while we recommend it, if we're covering something you feel wouldn't benefit you, there is no obligation to attend the session.
If you're hoping to get the most out of HubSpot, whether that's through new leads, more website traffic, or a higher conversion rate, it's worth learning all you can. 
However, if you feel a session isn't for you or you feel super confident about that week's topic, there's no necessity to get involved. 
The bootcamp can be helpful at any point. If you're not sure, get in contact with us and we can tell you.
How long will the bootcamp last?
The bootcamp consists of 4 weeks of training sessions.
Can multiple people from my company attend?
Yes! It's worth getting more people involved so you can all use HubSpot effectively. 
The Bootcamp is virtual, so feel free to bring as many of your team members that you think will benefit from some extra HubSpot know-how!
Do I already need to be a HubSpot user to attend the bootcamp?
Whilst some features of HubSpot require having a paid membership, you can create a free account alongside this bootcamp. It isn't necessary, but it will help you to apply what you learn.
Why doesn't it cost anything?
Because we love helping you and your business! We love seeing people succeed whether or not they are a paying customer. So this bootcamp is free and available to anyone who needs a hand getting the most out of HubSpot.