We love the HubSpot meetings links - it's so convenient being able to send someone a link where they can book a slot directly into your calendar, rather than having to go back and forth with half a dozen emails to set up a call.
Who should use meeting links?
Just because meeting links are part of HubSpot's Sales Hub, doesn't mean they're only useful for Sales Teams. As you can see from the list of different meeting types, above, we use them across sales, service, delivery, and marketing.
The convenience of meeting links lends them perfectly to anyone in the business who meets with external parties - if you have access to them, use them! Each individual can customise their links to suit their priorities and obligations, so while sales teams might be as available as possible, other departments may be harder to get booked in with.
What can you customise?
Of course, giving someone access to your calendar can be a little worrying, but you have control over how and when meetings can be booked, so you shouldn't have to worry.
How long the meeting will be for
How far in advance meetings can be booked
How much notice you want before a new meeting
How much space you want between meetings
What time intervals meetings can be booked at
That last one is particularly good if you're like me, and do not like meetings that start at 9.20 or 14.50 - you can choose to have meetings that only start on the hour, half hour, or quarter hour.
How can you customise your meeting links?
As you can see above, there are lots of ways to customise your meeting links - this video shows you how to do each of them.
To get to the meeting links, you go to your Sales dropdown and select Meetings. Then you just click edit on the meeting you'd like to amend or customise.
What types of meeting link are there?
There are three types - one-on-one meetings, group meetings, and round robins.
One-on-one
As you'd expect, this is a meeting that is between you and the person who books it. Simple as that. Of course, they're able to forward on the meeting invitation to anyone else in their business that should also attend (and you can do the same), so it may be just the two of you or it could be multiple people from both sides. But ultimately, the calendar that is available for these meetings is just yours.
Group meetings
These links allow you to combine multiple calendars. If you always have a sales meeting with a member of sales and a member of the product team in attendance, this would be the way to arrange that. The link will only show times where both calendars are available.
There is one caveat here - anyone you want to add onto your group meeting link needs to have a paid Sales or Service Hub seat. In Starter, you get 2 seats included. You get 5 with Professional and 10 in Enterprise. You can also purchase additional sales seats if you need them.
Round Robins
In these links, meetings are automatically distributed to a person on your team, depending on certain criteria. These are great if there are multiple people who do demonstrations, for example, and the person booking the meetings doesn't need to know who specifically they're booking in with. It reduces delays - if one person has a particularly busy week, your contact won't be left searching for an appointment next week or even later.
You can choose to route the contact to their contact owner, if they have one, otherwise everyone's availability will show in the calendar and the person booking the meeting picks the most convenient time, no matter who it is with.
As with group meetings, all members of the round robin need to have a paid Sales or Service seat to be added.
How many meeting links should you have?
Unless you're on the HubSpot Free tools (where you only have one meeting link), you have access to 1,000 personal and team meeting links in your HubSpot portal, so you needn't ration them!
The main thing to consider is how many would be helpful to you. These are a few of the meetings that we use:
Intro call
Exploratory/Discovery call
Presentation/Pitch meeting
Generic 30-min meeting
Generic 45-min meeting
Generic 1-hour meeting
Strategy consultation call
Demo
Service review meeting
Project kickoff meeting
Training workshop
Supplier meeting
You might have different links for each stage of your sales process - if each meeting tends to be a different length of time, then different links will give you that flexibility. You might have a range of Account Management links, depending on the service a client has or their investment level. You may have links for people you meet at networking, or trade shows, or both.
Because you can be particular in how much time in your calendar can be allocated to different meeting links, you can start to be selective. If you offer a free marketing consultation, for example, that link might only have the ability to book in meetings on a Tuesday afternoon or a Thursday morning, or whenever is convenient for you.
Connecting multiple calendars
If you have more than one calendar, you might be concerned that meeting links won't work for you. After all, if you have different availability showing in one calendar, that's going to throw everything off.
Luckily, you can connect additional calendars to create an integrated calendar that will show your accurate availability.
Go to your HubSpot portal and click the settings icon. Go to General and click the calendar tab.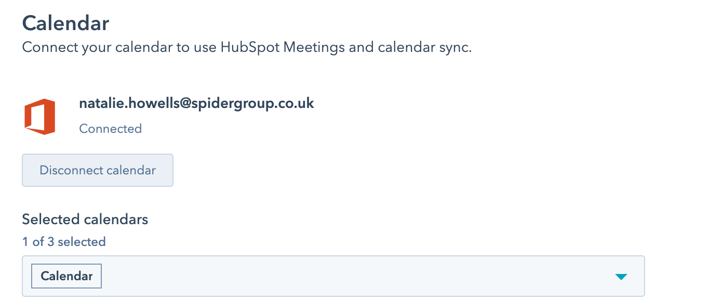 You can see I only have one calendar connected, but I have three in there that I could choose. You might have even more, but you can only add calendars that you own or that your email address has access to.
You should be aware that when someone books a meeting with you, it will only show up on your default calendar, it won't be pushed out to all of the integrated calendars.
What else can you do with meeting links?
You might have noticed a few meeting links embedded in our website pages. They're a great CTA - if someone wants to find out more and is ready to speak to someone, they can pop some time straight in without having to wait for a call back (we have many pages where you can choose either, so if you're not ready to talk but want to email instead, you can - it's about adding options).

You can add a meeting link to your chat widget, so that if someone wants to speak to you directly, they can book in right from the chat. You need to go to your Chat Profile and click the box to add a link